This 12Step.org site does not itself currently keep a registry of recovery meetings. To find 12 Step or other recovery meetings in your area, we suggest using one of the following web sites. Note that these meeting registries are sometimes out of date, so it would be good to double check the meeting times on more than one website (e.g., check the information on both the InTheRooms and Narcotics Anonymous websites).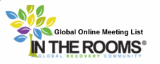 The
Meeting Registry
from the InTheRooms website is an excellent source for
A.A., G.A., N.A. and O.A. 12 Step meetings
across the world. It includes Google maps and lookup facilities by time and distance from your personal location. Members can also easily update or add information about a meeting.
For meetings corresponding to a given addictive behavior, usually a good source for meeting information is the general services office web site for the corresponding organization. Some of these general services office websites are listed below.