Google Map Search
With
Google maps
, you can perform searches for most locations to find nearby face-to-face meetings. For example, to find nearby meetings for Alcoholics Anonymous, you can enter "A.A. meetings" in the search bar for Google maps. The resulting pins on the map should represent A.A. meetings that are near you. From our investigations, in comparison with the InTheRooms listings or from other sites listed below, this Google search is not as complete, but does have the advantage of providing the exact physical location, directions about how to get to the meeting and oftentimes ratings and comments about the listed meetings.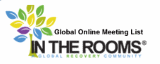 Meeting Registry from InTheRooms.com
The Meeting Registry from the InTheRooms.com website is an excellent source for A.A., G.A., N.A. and O.A. 12 Step meetings across the world. It includes Google maps and lookup facilities by time and distance from your personal location. Members can also easily update or add information about a meeting.

Face to Face Meeting Registries
For meetings corresponding to a given addictive behavior, usually a good source for meeting information is the general services office web site for the corresponding organization. Some of these general services office websites are listed below.